Welcome to all our Year 6 students and their parents/ carers who will be joining the Sacred Heart family in September 2022.
Transition from Primary School to Secondary School is such an important milestone for your son or daughter. We pride ourselves at Sacred Heart on our robust transition offer.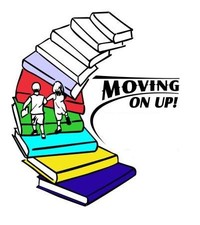 We normally start our Transition programme straight after the SATS week.
It will begin with either visits to Sacred Heart to explore what it is like being a student with us and to help them feel less worried about the full transition week in July or visits from the transition team to the Primary schools.
The Year 6 students are always very excited and eager to start finding out about life at Sacred Heart and we want them to be as excited as previous years in starting their journey at Sacred Heart.
To help us keep you updated and send you relevant documents please complete our parent/carer contact form here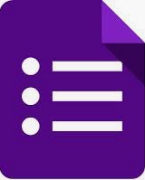 Key Information
All Transition information can be found on this page.
We also send information out on our School Twitter feed so would be grateful if you can 'follow' us if you are a Twitter user.
School Twitter feed – @sacredheartrcuk
All transition enquiries should be directed to: enquiries[email protected]
Uniform
Please familiarise yourselves with our Trouser and skirt guidance, Shoe guidance , School bag guidance and Appearance guidance before purchasing any uniform. 
PE Kit:
Please contact [email protected]
Payment must be made at Sacred Heart Reception. Only cash or cheque are accepted.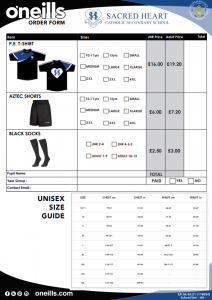 Your order will not be processed without payment being received.
Please click here for the order form.
Ties can only be purchased from Sacred Heart Reception.
General Uniform– We hold a small amount of stock that can be purchased from School. Once this stock has been sold, you will need to contact one of our suppliers below.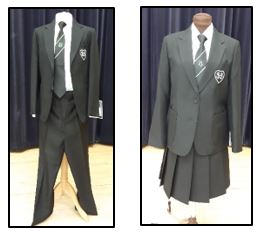 Our uniform items with the School logo can be purchased from the following local suppliers:
Ross's, Middlesbrough – Click here   or contact [email protected]
Quickastitch, Redcar – Blazer size chart Click here
Currently orders can also be placed by email:
[email protected]  or by phone: 07475130553
Bambinis, Guisborough– Click here
SEND information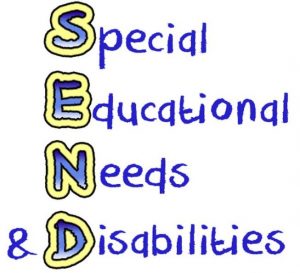 Mr Robertson our SENDCO will be in touch with all the Year 6 teachers to discuss any children on the SEND Register to ensure we know how to best support our Year 6 with any additional needs. Once she has met with them, she may then be in contact with you regarding your son/ daughter's SEND Profile. This is a document that is sent to all teachers of your son/ daughter to help them know how best to support your child. Any questions relating to SEND during transition can be sent via email to [email protected]
Transport
We will be in touch soon with parents and carers of those students who live in areas where the School bus picks up and drops off.