Full parental support is sought so that our uniform and appearance is of a high standard. All students are expected to wear school uniform (including during periods of travel). We believe that wearing uniform helps create a feeling of unity among the students and strengthens their sense of belonging to the school community.
Uniform for all students will be as follows:
Traditional black school blazer with school badge on the left pocket
Plain black school tailored trousers (worn with plain black socks) or,
Plain black school knee length pleated skirt (worn with opaque black tights)
Plain white school shirt with top buttoning collar
School Year Group or Prefect Tie*
Plain black sensible, polishable shoes
Optional – plain black v-neck jumper
Optional – wristwatch, religious medal, cross, crucifix on an appropriate chain
Note: *denotes items to be purchased from school.
Please contact our local suppliers:-
Quickastitch – 19 West Terrace, Redcar, TS10 1DP – Telephone: 01642 487720
Bambini – 19 Chalenor Street, Guisborough, TS14 6QD – Telephone: 01287 639421
Ross's Ltd – 45 Borough Road, Middlesbrough, TS1 4AF – Telephone: 01642 246150
PE Kit:
Students are required to wear the PE kit from the picture shown below:-
Black t-shirt
Black shorts
Black socks
The winter PE kit includes a plain black sweater (no hood or zips) and plain black tracksuit bottoms.  This is not available on O'Neills website at the moment but can be purchased from most retail outlets.
Please contact O'Neill's to place your order – O'Neills Website
Please click here for the order form.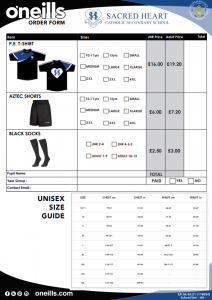 Do's and Don'ts:
Figure hugging skirts or trousers are not permitted
Skirts must be worn at knee length
Cords or canvas type trousers are not permitted
Shirts must be worn tucked in
No sweatshirts or cardigans
No fashion shoes, boots, trainers or other sports shoes
No make-up or false eyelashes
No false nails or acrylic nails or nail varnish
Only natural coloured hair dye is permitted
All students must bring an appropriate school bag.
Photographs showing acceptable items of footwear, trousers and skirt lengths, hair styles and accessories and School bags can be viewed below: