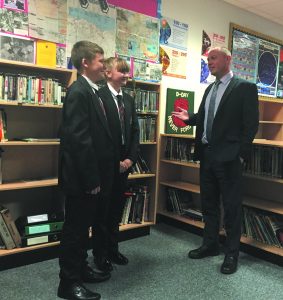 Welcome from the Headteacher
I feel immensely proud to welcome you to Sacred Heart Catholic Secondary, a school within the Nicholas Postgate Catholic Academy Trust. Our school has a rich history and like all Catholic schools we provide nurturing, caring and loving environments where spirituality and Catholic ethos and faith permeate everything we do.
At Sacred Heart you will find a dedicated group of teachers and support staff, bound together in our mission to serve the young people of the community and provide for them the spiritually-rich development they deserve to become the best version of themselves.
We pride ourselves on offering an enriching and challenging academic curriculum, which broadens the experience and life chances of our students. We teach, as Christ did, with compassion and respect for all – valuing each individual who make up our community. We have great aspiration for our students and invest heavily in motivating them to see a future for themselves where they have the greatest opportunity to feel successful and fulfilled.
We are proud to be able to say that we know every student in our school – it is this close link that allows us to nurture the whole child and educate them effectively with aspiration, with care and with our support.
We are fortunate to have a modern, well-equipped and well maintained building which provides the physical environment suitable for growing the numerous talents we see every day in our students. We offer a wide range of extra-curricular opportunities which enable all our students to develop their abilities and enjoy themselves.
As a Catholic school we are proud to worship, and follow the teachings of Jesus Christ. Walking around our school you will 'feel' our Catholic ethos in the air – the way we talk to one another, the way we support and trust each other and the way we are driven to succeed in our mission.
Above all else, our mission in this school is to provide life opportunities for students; to open as many doors as possible for them to lead the lives they want to lead.
We will open student's eyes to the possibilities that education allows them. Through this, we form lives ready for the future.
Please feel free to come and visit us, I am confident you will find that the school I describe above is the school you will experience, thank you for your interest in us.
Regards,
Dr Patrick Caldwell